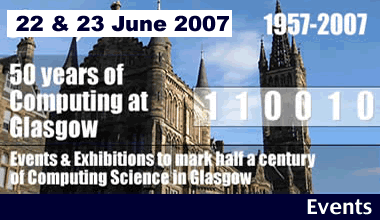 In 1957, the University of Glasgow appointed Dr (later Professor) Dennis Gilles to establish a computing laboratory. Over the next fifty years the Computing Laboratory has grown into a strong and flourishing Computing Service, a world-class Department of Computing Science and, indirectly, a myriad of innovative applications of computing to teaching, learning and research in almost every part of the University.
During 2007 the Department of Computing Science will celebrate the achievements of the Computing Laboratory and its offspring via a variety of exhibitions and events.
These will offer opportunities to reflect on our past, celebrate our achievements and consider the future of computing at Glasgow University.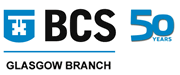 50 years of Computing in Glasgow
The Department are delighted to be jointly hosting these celebrations with
BCS Glasgow Branch who also celebrate their 50th Anniversary this year.
The inaugural meeting of the BCS Glasgow Branch held in Glasgow on 11th November 1957 was chaired by Dr Gilles, Director of the Computing Laboratory at Glasgow University.
---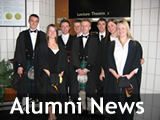 Alumni News
Calling all Glasgow graduates.
News and Information on Alumni events.
---