1.(a) Identify two ways in which the following menu supports the transition between novices and experts.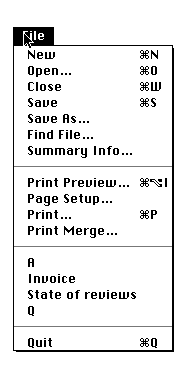 [6 marks, bookwork/seen problem]
This menu supports the transition between novices and experts by providing clues about the keyboard accelerators that are available (clover- P to print, clover-N for a new file). These prompts may actually distract people who are new to this style of interaction. For intermediate users, they help to reinforce the available keyboard shortcuts.
This menu also exploits the transition between novices and experts through chunking. Novices may not know where a particular menu option is located. By grouping similar items together, the designer helps users to locate all of the print options, all of the save options etc. Other solutions might refer to the more recently/frequently used file items above the Quit option.



---
(c) The Johnson-Dunlop Corporation have been hired to design a menu-based interface to the room booking system for the University. One interview with the potential users revealed the following:

"Well none of us knows how to use a computer and we're all a bit scared of them... Oh yes, we've all been doing this for a few years now and well, basically, we just have busy periods when we book all of the rooms for the next year. We spend every minute of the day making bookings. Then it goes quiet for a few months..."

Briefly explain why your user group would be experts, novices or some blend of the two.

[16 marks, unseen problem]
This quotation reveals a complex blend of expertise. On the one hand the users are computer 'illiterate' and may, indeed, be scared of using these devices. On the other hand, they have been in their jobs for some time and will be experts in their task domain. A third issue here is that even though they are experts in their task domain they may be infrequent users of any system because it will only be used for a few weeks of year. Finally, one might anticipate a high level of skill to be built up with the system during that relatively intense burst of activity.

The key conclusions from this might be that the users are infrequent, novices but that there should be scope for expert behaviour to speed their interaction as they become more skilled during the intense periods of interaction with the system. Keyboard accelerators, such as those shown in part (a), are an example of such a technique although these imply a base-level of computer literacy.



---