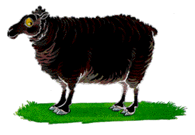 Peter J Bailey
I'm Pete Bailey, currently the IT Officer for the Department of Computing Science and have been in post since 1987.

I'm in charge of the Systems Team, which is responsible for all the IT infrastructure in the Department, from initial recommendation through to day to day running and maintenance. This team comprises four technicians and six system specialists plus myself.

During the first half of my time in Glasgiw I was heavily into Research into Persistent Systems. Since then I have become more involved with managing a team of really good people, which makes the job all the easier to do.
Contact details
University of Glasgow
Department of Computing Science
17, Lilybank Gardens
Glasgow G12 8RZ
SCOTLAND

E-mail: pete@dcs.gla.ac.uk
Tel: +44 (0)141 330 4469
Fax: +44 (0)141 330 4913

Peter J Bailey