Travelling to the Haptic Human-Computer Interaction Workshop
Getting to Glasgow
Getting to Glasgow is pretty easy. The scottish tourist board have lots of useful information.
Glasgow has its own International airport (0141 887 1111) or you can fly to London Heathrow or Manchester and take a connecting flight or train from there. The university is a short (7 mile) taxi ride from the airport (should cost around £13-15).
Here are the travel details provided by the Scottish Tourist Board. They have a lot of useful information on how to get to Glasgow.
Information about Glasgow from the City Council.
Train information (0345 484950). It takes about 5 hours from London to Glasgow by train.
You can also come by bus. Buchanan Street Bus Station is the terminus for long-distance coaches (0141 332 7133)
Of course you can drive to the conference too. The M8 exits for the University are junction 19 if travelling east and junction 18 if travelling west. The A82 Great Western Road runs just to the north of the University, the A814 Clydeside Expressway runs just south and Byres Road just west. Parking at the University is limited but once you have got to your hotel you can probably walk to the University.
Travel within the City
There are many options for travel within the city. Taxis are pretty cheap. You will see a lot of black taxi cabs around.
There are also many buses, routes 44 and 59 go right passed the University and will take you to the city centre (0141 226 4826).
Glasgow also has an Underground rail system (0141 226 4826). The stop nearest the University is Hillhead.
The Tower is a good landmark to use when navigating. You can see it from most of the city. The main conference will take place in the building right next to it.
Finding the University and Conference venue
The main part of the University is sited on University Avenue. The hotels map shows the general area of the city where the conference will take place (called the West End).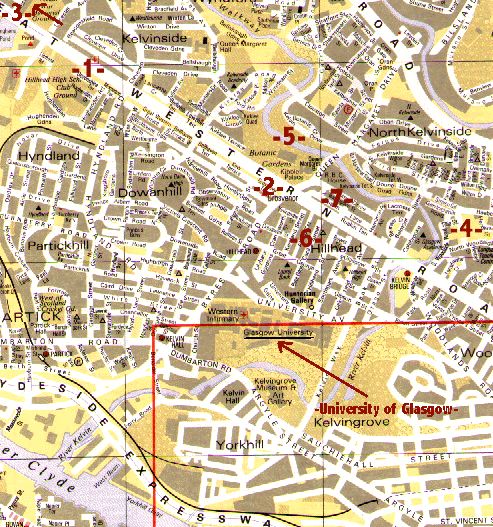 There is a Main Gate on University Avenue. The security guards there will be able to help you if you get lost. The main conference will take place in the Senate Room.
The general layout of the University can be seen in the university map.
The Senate Room is right next to the University Tower (which is marked A10 in the map)
Here is another general map of Glasgow.
Other Useful Information
The Glasgow telephone area code is 0141, the international code for the UK is 44. You don't need the 0 in the area code if you are calling from outside the UK.
If you have any other queries or would like this information in a different form then email stephen brewster.