Research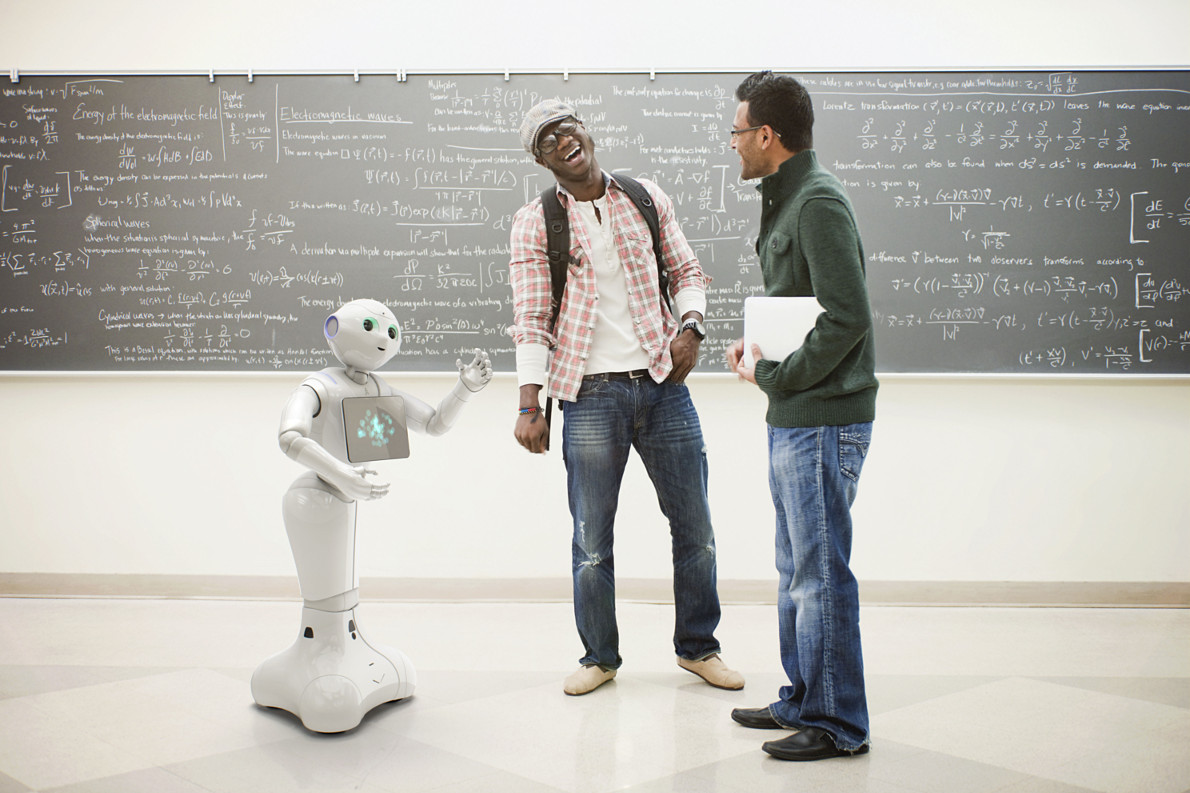 Photo by Troy House - CORBIS; downloaded from http://www.aldebaran.com/en/press/gallery/pepper
My main research goal is to build artificial characters---mainly robots---that people can interact with using natural, face-to-face conversation (yes, like C-3PO and R2-D2). Supporting this sort of interaction means that a robot must be able both to produce a wide range of appropriate social signals (speech, facial expressions, body language, gestures) and to understand the social signals produced by its conversational partners. To make this possible, we must (1) observe the signals used by humans in a range of situations, (2) build models of those behaviours that can be used by a robot for both input processing and output generation, and then (3) test how well the models perform when the robot must interact with humans.
I would welcome applications from Ph.D. students who are interested in working on any of the above areas. In particular, the SOCIAL AI CDT provides a number of funded studentships every year in a range of areas including those above. You can find out more general information about the Glasgow Ph.D. programme on the School web pages, or if you want more specific information, feel free to email me directly.
Projects
Social robots for healthcare applications
My main current project is "Using AI-Enhanced Social Robots to Improve Children's Healthcare Experiences", a project funded in 2020 through the Canada-UK Artificial Intelligence Initiative. This three-year project is exploring the use of social robots to help children cope with potentially painful and distressing healthcare situations. The project partners are:
University of Glasgow (UK PI and coordinator)
University of Alberta (Canada PI)
Hospital for Sick Children, Toronto
McMaster University
Ryerson University
Heriot-Watt University
Here is an article from the University of Glasgow News site with more details about the project.
MuMMER
From March 2016-March 2020, I coordinated the MuMMER project, a four-year Horizon 2020 project where we will develop and test a socially intelligent robot in a public shopping mall in Finland. The partners are:
University of Glasgow (coordinator)
Heriot-Watt University
Idiap Research Institute
LAAS-CNRS
Aldebaran Robotics
VTT Technical Research Centre of Finland
Ideapark (shopping mall)
See the project website for more details about the project.
SoCoRo
From 2016-2019, I was also a co-investigator on the SoCoRo project, which aimed to build a socially competent robot training buddy for adults with ASD.
Previous projects
Before coming to Glasgow, I worked on a number of projects in the general area of embodied conversational agents, including the following:
Videos
Here are a few online videos of me talking about my research.