---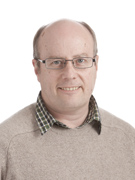 I'm a (full) Professor in the School of Computing Science in the College of Science and Engineering at Glasgow University.
Research
My main research interests are
the design, implementation and evaluation of high-level parallel and distributed programming languages;
parallel and distributed functional programming, using Haskell, Erlang, and friends; and
parallelising interesting applications, e.g. Algebraic Computations.
So I'm interested in how to better exploit multi- and many-core machines, Clouds, High Performance Computers (HPC), and other platforms. I'm part of the Glasgow Parallelism Group (GPG) and the Embedded, Networked and Distributed Systems Research Group.

Teaching
Programme Director for the BSc in Computing Science delivered in Singapore. I deliver the following courses:
Pre-sessional Algorithms and Data Structures (Singapore)
Professional Skills and Issues (Singapore)
Advanced Programming 3 (AP3)
Contact Information
Office
Home
---