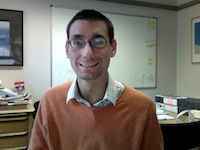 I am a lecturer in the School of Computing Science at the University of Glasgow. My main research theme is Complex Systems Engineering. I am a member of the Systems Research section at Glasgow. You can find out more about my research, or browse through my publications list.
Current Projects
People I work with
I supervise the following PhD students at Glasgow:
Khaled Alnowaiser Jun 2016 - passed with minor corrections!
Memory Management for the Cloud
Wing Hang Li
Optimizing Non-Java Workloads on the JVM
Abyd Adhami
Peer-to-Peer Optimization in Managed Runtime Environments
Dhahi Alshammari
Offloading Computation in the Cloud
Niall Barr
Tools to support Domain Specific Language development and Product Family Engineering
Dejice Jacob
TBD
I am always looking for talented Computer Scientists who want to study for a systems research
PhD
at Glasgow. Please
contact me
if you intend to apply.
Service
I am an associate
peer review college
member for EPSRC. I am the Graduate Academy director for
SICSA
, with responsibility for enhancing PhD experience for Scottish Computing Science students.
Useful Links