Edinburgh on University Challenge 2001-2002
I promised myself I would never do this. I promised myself... and here I am, creating a web page about University Challenge. I'm such a geek. :-)
What is University Challenge?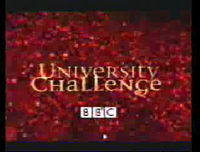 When my Canadian friends ask me about University Challenge, I always say it's like a nationally-televised Reach for the Top with British university students. Americans sometimes understand if I say that it's the British version of College Bowl. If neither of those references makes it clearer: basically, it's a television quiz show contested by teams of four students, each team representing a university (or Oxbridge college). Here are a few pages with more complete descriptions:
The team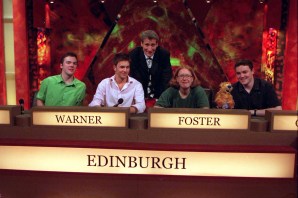 The team was selected following a university-wide selection test in March 2001. This is the order we normally sat in on the show (well, Simon was generally in the audience...).
Andrew Gregory, from Doncaster, NOT studying German :-)
Hugo Warner, from Bath, reading Law
Mary Ellen Foster (Captain), from Canada, studying for a PhD in Informatics
David Griffith, from Stirling, studying Medicine
Simon Ingram (Reserve), from York, studying History
Here's an article from the Edinburgh Evening News about us that was printed a few days before the semi-final was aired. Among other things, it explains the whole dinner-jacket phenomenon.
The photo on the right was taken immediately after the first-round loss to Christ's. I think we look remarkably happy, given the circumstances... click on the photo for a larger image. Important note: the tall guy in the background is not Simon.
How we did
First round
Well, this wasn't too hot... we got off to a good start, but then kind of folded towards the end. I didn't realise how complete the collapse had been until I saw it on TV: lots of occasions where one team member buzzed in with a wrong answer when another knew the right one (grumble grumble... bloody Mazel Tov...), or when we knew the answer but Christ's got there first. Fortunately, our score of 150 was high enough to squeak into the "highest-scoring losers'" playoff round.
Playoff
This time, we got off to a great start -- I think it was 95 to -5 at one point. Then we decided to lull them into a false sense of security for a bit... :-) Highlights included Haydn (I'm glad they showed our reaction to that) and The Eightfold Path. This show also marked the debut of Andrew's dinner jacket.
Second round
Well, first of all, I'd better explain that "tin" thing. It wasn't just Andrew -- I also could have sworn that the girl from Wadham had said "zinc". Of course, everyone else in the studio heard her correctly... anyway, that's where his answer came from. (As for Priscilla, Queen of the Desert and e + pi = 5... well, he's on his own on those. :-)) Other than that, it was a good team effort: David got his first correct answers (three of them, in fact), and the rest of us all got some questions right too.
Quarter final
That was quite satisfying to watch. Weird how we got so many starter questions and so few bonuses, though... and it would have been nice to have hit the 300 mark. Oh well, at least we looked good doing it. Those buttonholes really did look impressive.
Semi final
Arrrrrrrgh. Here are some theories on why we lost:
We all arrived at the studio at the same time for the first time ever.
We let the other guys get the first question, which only previously happened in the Christ's match and look what happened there.
Insufficient appeasement of the tree gods with fudge (LOOONG story...)
They actually practiced with actual buzzers beforehand.
Andrew and Hugo's (no-longer-hypothetical) curry with the girls from UCL the night before.
Karmic retribution for my little "Yesss..." when we got the set of bonuses on computing terminology.
I don't believe we were actually ahead until well after the first picture round! I totally didn't remember that! (Perhaps I repressed the memory.) I repeat... arrrrrrrrgh. Oh well; it's been fun.
Final
Wow, what a great match! Of course, we weren't actually in it in the sense of actually being behind one of the desks and playing and so on... but we were still there, still in our evening wear, cheering (loudly) for Somerville (on the "anyone-but-Imperial" principle, and fuelled by the hospitality in the green room). However vindictive I was feeling, though, I didn't want them to be crushed as badly as it looked like they were going to be in the first 10 minutes -- who wants to have been beaten by a team that turns out to suck? (Sorry, Newcastle...) So I was glad it turned into a real contest by the end.
Links