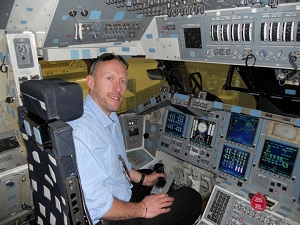 ---
Chris Johnson's Home Page

I'm Professor and Head of Computing Science at Glasgow University.

My research increases the resilience of critical infrastructures. I have advised a wide range of companies including EDF (UK), DFS (Germany), Frequentis (Austria), LVNL (Netherlands), Skyguide (Switzerland) and Thales (UK).

I am the software specialist on the SESAR scientific board advising the European Commission on the future of Air Traffic Management, comparable to the US NextGen programme. I also work on the cyber security of airport operations with the UK Department for Transport, EUROCONTROL, AdP and Helios.

I have worked with the United Nations (UNICRI) on improving the cyber-security of Chemical, Biological, Radiological and Nuclear facilities, including facilities in Africa and Asia, with the US Pacific Northwestern Labs and the UK National Nuclear Laboratory.

The main focus for my work is at the interface between safety and security - for example, developing techniques so that we can continue to ensure safety while gathering forensic evidence in the aftermath of a cyber-attack. I've also worked on understanding space mission failures with NASA, the European Space Agency and the US Air Force.

In my spare time, I'm an SRU level one rugby coach with the West of Scotland juniors.

---
News:

2017:
Panel chair for joint Dutch (NWO) - US (Dept of Homeland Security) research programme on cybersecurity.
Steering Group member of the UK Govt National Cyber Security Centre Industrial Control System CoI.
Advisor to UK Government on cyber security in energy (BEIS) and transport (DfT).
Reappointed to the EC Scientific Advisory Board on the Future of Air Traffic Management (SJU).
Invited talk to École nationale supérieure d'électrotechnique, d'électronique, d'informatique, d'hydraulique et des télécommunications.
Invited talk to UN ICAO Summit on Cyber Security in Aviation, Dubai and ICAO/GANIS2, Montreal..
Invited talk to the Royal Aeronautical Society.
Member of the EPSRC Strategic Advisory Team (SAT)
Working on UK UK Department of Transport review of response plans for recovery from cyber incidents.
Working on the cyber-security of UK civil nuclear reactor programme with EDF and the CINIF industry body.
Chair of the IET conference on Cyber Security and Systems Safety.

2016:
Elected to the UK Computing Research Committee.
Chaired the first IET Conference on Cyber Defence.
Keynote at SSS'16, Why We Cannot (Yet) Ensure the Cybersecurity of Safety-Critical Systems
Only academic invited to European Aviation Safety Agency Strategic Meeting on Cybersecurity
Keynote at the Danish Civil Aviation Conference in Bodo, Norway, February 2016.


2015:
Keynote at the Australian System Safety Conference and at High Integrity Software 2015.
Invited talk for the Royal Aeronautical Society, on the urgent need for new models of regulation in aviation.
DSTL masterclass on SCADA cyber-security at Porton Down with participation from CESG/GCHQ.
Invited briefing on cyber-security and national policy - Danish Parliament.
UK safety-critical systems keynote on the cybersecurity of Nuclear and Aviation supply chains.
Invited talk at the French National Aviation University (ENAC).
---
Research

I am a member of the Systems Section within the School of Computing Science.

Books:

Recent papers:

I help to edit:

I have chaired funding panels, reviewed proposals etc for the New Zealand Ministry of Business, Innovation and Employment, Danish Councils for Independent Research, Danish National Advanced Technology Foundation, European Commission (H2020 evaluator, FP7 assessor), Foundation for Polish Science (2010), Hong Kong Research Grants Council, Enterprise Ireland, UK EPSRC, MRC, ESRC as well as the US NSF, The Carnegie Trust, L'Oreal-UNESCO Women in Science, and Canadian WorkSafeBC.

I am giving or have given recent invited talks at:

Together with Paul Casely (DSTL), I am technical co-chair for the IET International Conference on System Safety 2007-2016 and 2015 Conference on Application and Theory of Automation in Command and Control Systems (ATACCS'2015). I was co-chair for ACM HCI Aero 2014. I have served on a number of recent conference organising committees. I am on the programme committees for the following:
---
Teaching

I have been a judge for the UK Distinguished Dissertations in Computing Science. I was head of our Teaching Committee and chaired the Board of Studies across our Undergraduate and M.Sc. programmes. I was nominated by my students for one of the Prizes for Excellent Teachers.

I am an external examiner and have taught:
---

Prof. Chris Johnson, DPhil, MSc, MA, FBCS, CEng, CITP, Room S162, School of Computing Science, Univ. of Glasgow, Glasgow, G12 8RZ, Scotland.
Tel: +44 141 330 6053, Fax: +44 141 330 4913,
christopher.johnson@glasgow.ac.uk